Muay Thai
Learn one of the most exciting martial arts on the face of the earth. Join Genki Gym and train among world champions
Boxing
Learn the "sweet science" through a combination of drills, mitt work and bag work. These classes will build your defensive technique, punching skills and footwork.
Sparrings
Sparring is a form of training which consists essentially of a free fight with rules, and the agreement not to cause injury to the opponent.
Private Classes
The individual attention and approach that a 60-minute session with Christophe can and does lead to significant improvement in a student's Muay Thai technique.
It is highly recommended that all students take at least one private lesson per month to review techniques and address specific challenges in his or her Muay Thai technique.
Gain access to customized training developed by a world champion.
Gain a better understanding of specific areas of your Muay Thai game flow.
Rise above your training plateau.
Speed up your learning.
Muay Thai is like any other sport or activity: your progress is a consequence of how hard and how smart you work.
Group classes are a great way to learn muay thai. The diversité of different training partners provides challenges that allow the student to test their réflexes and adapt what they have learnt in a réal and dynamic environnement.
However private lessons offer a customized experience aimed at improvisé your spécific strength and weakness. This allows you to accelerate your learning and is a great complément to any group class membership.
What should I bring for training?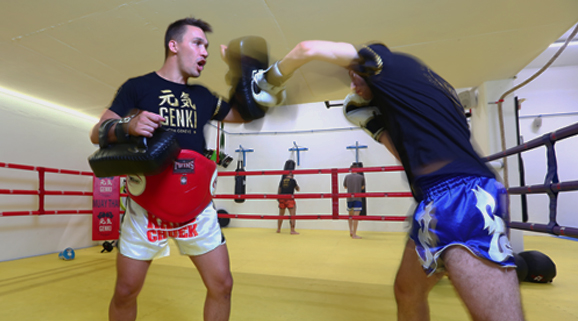 Here are a few things you need for successful training:
Must : Positive Attitude, Gym Shorts, Gym Shirt , Towel and a water bottle

If Sparring : Gloves, Shinguards and a Mouthpiece

Note : Genki Gym can provide equipment on loan (gloves, shinguards), but most students prefer to use their own gloves and protective gear.

Shoes are not allowed on the mats and must be removed at the entrance of the gym

Feel free to contact us for any question you might have
Enjoy a 360° Panorama View of Genki Gym!
For an optimal experience, view in fullscreen