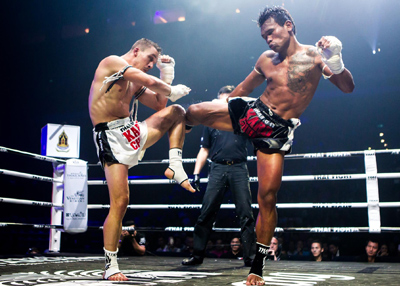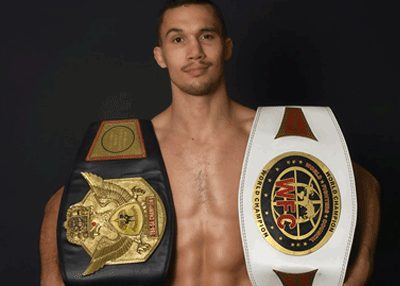 Christophe Pruvost
In his youth, Christophe was not much of a competitor. It was only at 18 years old that he gave a try to Thai Boxing. He instantly fell in love with the sport and never looked back. The following year he became the Swiss amateur champion.
Japanese chapter
As the situation of Thai Boxing in Switzerland was not showing much promise, Christophe decided to travel the world by the end of 2005, starting in Tokyo. Although he came to Japan to travel, he couldn't escape his love of Thai Boxing and quickly oriented himself to Scramble Gym in Shibuya, under the teaching of Mister Uchida Yasuhiro, himself twice former champion of Japan.
It was here that his professional kickboxing career had a strong start. After multiple successive wins, he could join the Top 10 ranking of the best welterweights of Japan. In 2008, Christophe defeated the K1max fighter Yuya Yamamoto and became the new champion of Japan. He is still to this day, the only European to earn this title. Since then, he represented Japan and faced a series of Thai champions such as Kuntap Weerasakraek, Jaochalam Sitkanokgym, Naruepol Fairtex, and Ganswan Sasiprapa.  In April 2010, his growing reputation got him a world title shot against Malaipet Sasiprapa in Los Angeles for the Thai Boxing Association world super welterweight title. After 5 hard rounds, Christophe became the new World Champion.
European chapter
After 5 years living in Tokyo, Christophe decided it was time to move back to Switzerland and retire from Thai Boxing. After a year of life in Europe, Christophe found his motivation to fight again.
Since then, Christophe fought regularly on the international stage, earned his second world title, Japan where he beat the shoot boxing champion Satoru Suzuki, France winning over Mickael Piscitello, Los Angeles once again for the second Thai Boxing in America show losing a split decision against Chike Lindsay,  Milano Italy at the Yokkao event, and in Germany where he successfully represented Europe at the Thai Vs Europe event. In 2014, by beating the Thai fighter Iquezand in the prestigious even "Thai Fight", Christophe earned a spot in the yearly tournament "Kard chueck world tournament". He won all of his fights until the final where he lost facing the legendary Yodsanklai Fairtex.
After multiple more fights across Europe, Christophe announced his retirement from boxing to concentrate on new challenges, promotions his fight event, opening his own gym, looking foward to help a new generation of fighters to rise from Geneva.
"You can quit your job, but you can not quit your passion"